Spaghetti and Spicy Meatballs Recipe
Give your traditional Italian meatballs an upgrade with this recipe for spaghetti and spicy meatballs. They're extra tender and juicy, thanks to a few easy tricks, and flavored with a blend of Italian herbs and spices.
Give your traditional Italian meatballs an upgrade with this recipe for spaghetti and spicy meatballs. They're extra tender and juicy, thanks to a few easy tricks, and flavored with a blend of Italian herbs and spices.
Fun fact about me: I make the best spaghetti and meatballs, despite not having an ounce of Italian blood in me. I am convinced it is because I look Italian-ish, at least according to like 25% of new people who meet me and feel I look Italian enough to comment on it. It's awkward, but if it means I get to enjoy amazing homemade meatballs, I suppose it's worth it.
I feel so ballsy (pun intended) about my meatball making skills that I recently made them for an Italian friend after she had a baby. They got two very enthusiastic thumbs up, although not sure how that counts coming from a sleep and homemade food deprived human.
What makes this recipe for spaghetti and spicy meatballs so special is the blend of spices added to the meatball mix. I use a bit of chili powder, allspice, oregano, basil, cayenne and crushed red pepper flakes. It adds a bit of heat without being totally overpowering, and the allspice adds some sweetness. The other thing I love about these meatballs is how tender they are. You can basically eat them with a spoon!
How to Make the Best Spicy Spaghetti and Meatballs
To make my spaghetti and spicy meatballs, start by making a panade, which is a simple mixture of milk and bread or breadcrumbs. The panade adds both volume to the meatballs - a budget-friendly trick for extending ground meat - and keeps the meatballs from drying out by adding lubrication between the protein fibers.
To make the meatballs, gently mix the ground beef and pork with the panade, herbs and spices, egg, onion and garlic. Form the meatballs, then refrigerate them for about an hour. This helps the flavors blend, and helps them keep their shape by preventing the fats from melting and breaking down.
Most recipes call for frying the meatballs before adding them to the sauce, but to prevent oil splatter all over my kitchen and save some hands on time, I like to broil them in the oven. This adds a bit of yummy browning on the outside, and the quick cooking keeps them nice and moist.
While the meatballs are broiling, I start on the tomato sauce, a simple tomato sauce with some red bell pepper in there too. You can also use a jar of store bought sauce if you'd like to save time. I really like Rao's, Michael's of Brookly, and Cucina Antica.
Tips for Making the Best Spaghetti and Spicy Meatballs
Be sure to use fattier cuts of ground meat, as leaner cuts will dry out. The blend of pork and beef in these spicy meatballs keeps them moist and juicy and adds to the flavor profile too. Try 70/30 or 80/20 ground beef.

Avoid overmixing the meatballs, which helps keep them tender. Gently mix the meatball blend together in the bowl using your hands, stopping when they're just combined. You could use a cookie or ice cream scoop to help form the meatballs, or use oiled hands which helps keep them from sticking.

If you want to taste test the mixture, create a little mini-meatball and fry it before forming the rest of the meatballs. That way you can check for seasoning without eating raw meat!

Don't use skim milk to make these meatballs. Remember, fat is FLAVOR!

For a super flavorful tomato sauce, look for canned San Marzano tomatoes. They're a type of tomato that is sweeter and more flavorful.
What to Serve with Spicy Spaghetti and Meatballs
Here's a few ideas for sides to serve with my spicy spaghetti and meatballs…
A simple side salad, like my favorite chopped side salad or a classic Caesar.

Garlic bread or focaccia (try my roasted garlic no-knead focaccia) to sop up the sauce.

Your favorite simple roasted vegetable side. I usually serve this with roasted broccoli dusted with parmesan, but I also love it with garlicky sauteed broccoli rabe or Brussels sprouts.
If you feel like sending me flowers after making this spaghetti with spicy meatballs recipe, please email me for my address. Also, I like hydrangeas.
If you liked this spaghetti and spicy meatballs recipe, follow my favorite pasta recipes Pinterest page for more cooking inspiration.
This recipe for spaghetti and spicy meatballs was originally published in April 2016. Recipe, images and text have been updated to give you the best possible content.
---
Spaghetti with Spicy Meatballs Recipe
Serves 4ish
Ingredients:
Meatballs:
1/2 cup seasoned panko breadcrumbs

3/4 cup whole milk

1/2 lb ground beef

1/2 lb ground pork

1 small onion, grated on the large holes of a cheese grater

2 garlic cloves, pressed or finely minced

1 large egg

1 1/2 teaspoons chili powder

1 teaspoon allspice

1/2 teaspoon dried oregano

1/2 teaspoon dried basil

1/4-1/2 teaspoon crushed red chili flakes

Large pinch of cayenne

3/4 teaspoon salt

1/2 teaspoon freshly cracked black pepper
Sauce:
2 tablespoons extra virgin olive oil

1 small onion, diced small

2 garlic cloves, thinly sliced

1/2 red bell pepper, seeded and diced small

2 bay leaves

1/4 teaspoon crushed red chili flakes

28 ounce can crushed tomatoes (preferably San Marzano)
For serving:
8-12 ounces dried spaghetti

Freshly grated parmesan cheese

Chopped fresh parsley
Instructions:
First, make the panade. Mix panko and milk together in a bowl and sit for at least 5 minutes.

Add both meats, onion (gently squeezing out the extra onion juice), garlic, egg, spices, salt and black pepper to a large bowl. Add the panade and gently mix together with hands until just combined.

Gently form meatballs that are slightly larger than a golf ball and place on an oiled baking sheet. Cover and refrigerate an hour to allow the flavors to meld.

While the meatballs are chilling, make the sauce. First heat olive oil in a large pot on medium-high heat. Add the onion and garlic and cook until translucent, about 3-4 minutes. Add red pepper and cook until tender and onion is lightly golden, about 5 minutes. Add bay leaves and red pepper flakes and cook 30-60 seconds. Add crushed tomatoes, 1/2 cup of water, and bring to a simmer and cook 20 minutes until thickened. Season with salt and black pepper to taste.

While cooking the sauce, bring a large pot of salted water to a boil and cook spaghetti according to package instructions. Reserve about 1/2 cup starchy pasta water before draining the pasta. Add the cooked pasta back to the pot and set aside until ready to use.

To cook the meatballs, place under the broiler and cook until lightly browned on the top, about 3 minutes, flip and cook 3 minutes more on the other side.

Gently place the meatballs in the simmering sauce, spoon a bit of tomato sauce over the top and simmer about 10 more minutes to cook the meatballs through.

To serve, spoon a bit of tomato sauce over the pasta along with a bit of reserved pasta water to help loosen it. Toss to combine then serve topped with meatballs and sauce. Garnish with parmesan cheese and parsley.
---
If you like this spaghetti and spicy meatballs recipe, you might also like: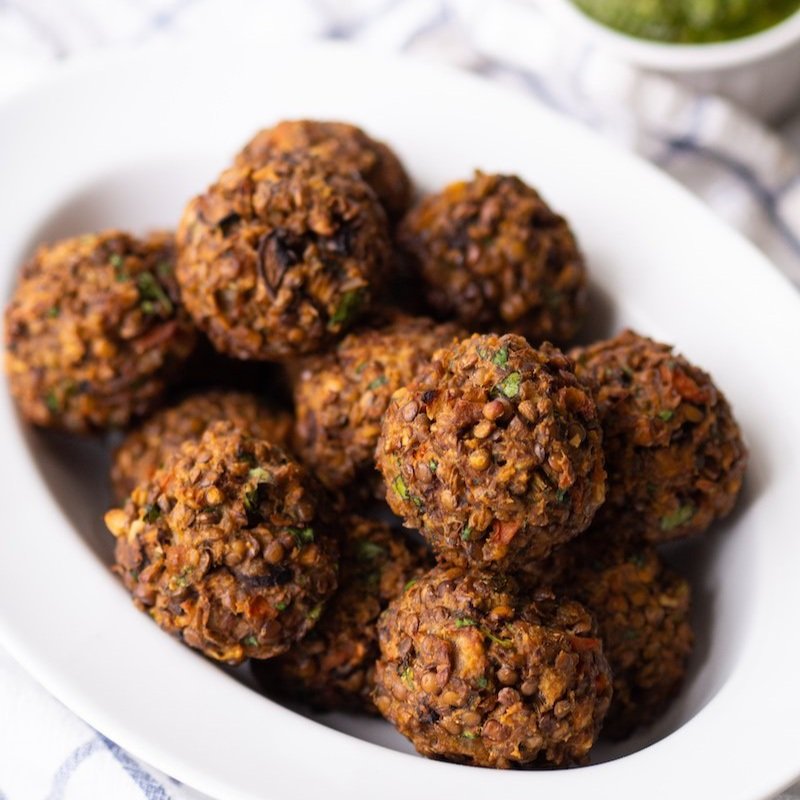 ---
---